WEDDING SPECIALISTS IN BOJNICE
Your Wedding in Bojnice
Your wedding is one of the most important days in your life and there is only one opportunity to make it absolutely perfect. Don´t choose just a restaurant, a photographer or a florist. Choose a team of professionals who really understand that creating a precious memory for you, your family and your friends in the most important thing. Choose people with experience. Choose people who have passion for what they do.
Having your wedding in Bojnice is every bride's dream. A fairytale castle, an absolute marvelous surroundings for great pictures, a luxurious table with delicious food and a great band to dance until midnight. We know everything there is to know because we have made this dream come true for hundreds of brides and grooms like you. We are the most luxurious catering in Bojnice. We truly believe that food and service have to match level of the marvelous Bojnice Castle.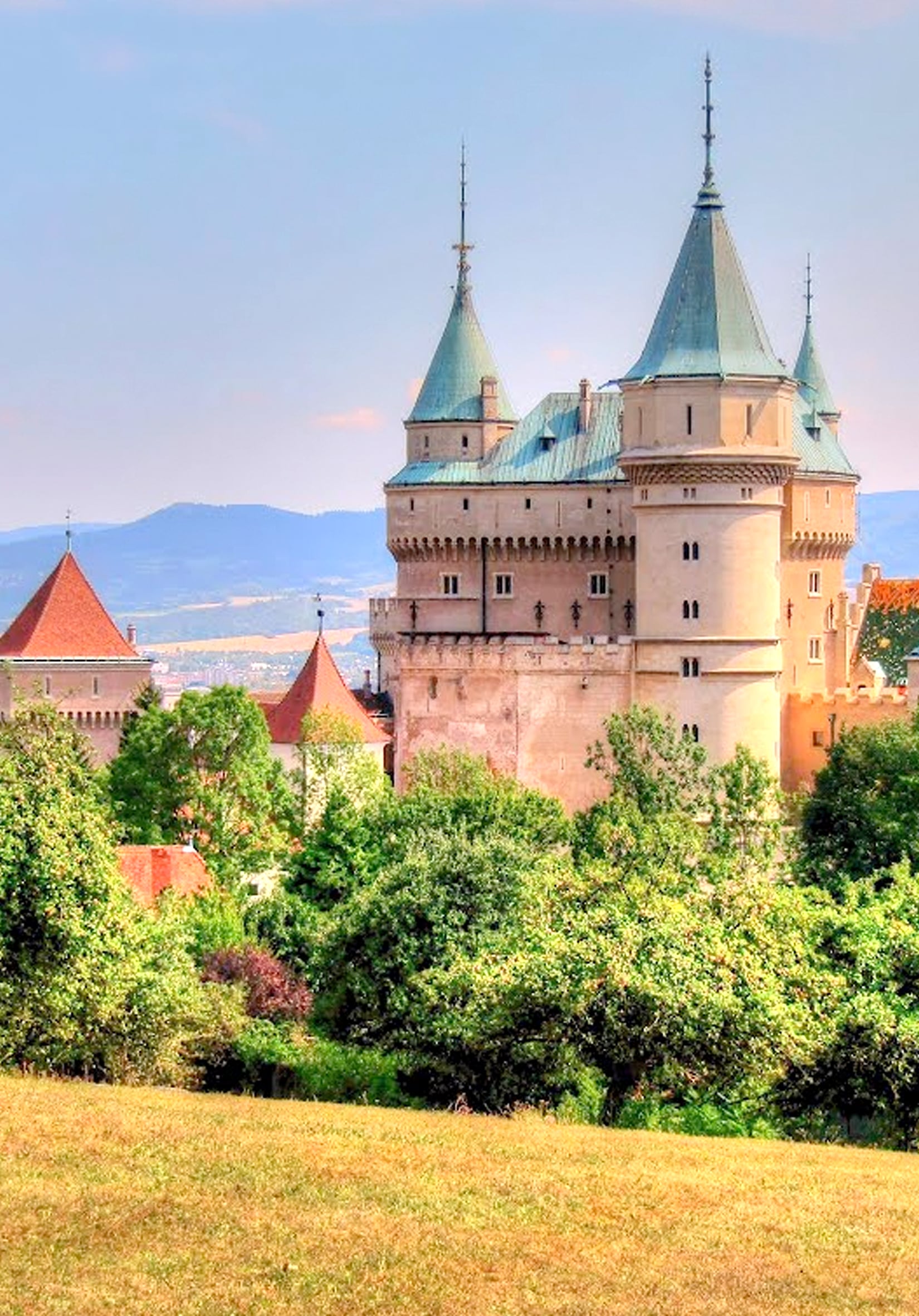 BOJNICE HOTEL VÍNNY DOM
Best Location in Bojnice for a Wedding
Our hotel is located directly on the Bojnice square near the romantic linden alley. It´s just at walking distance to all important places – Bojnice Castle, St. Martin´s church, Bojnice ZOO and Bojnice SPA. All the charming places, modern and ancient… Your wedding place will be prepared according to your wishes.
Wedding ceremony
There are a lot of options in Bojnice.
Wedding ceremony in the Golden Hall of the Bojnice castle, which lies just 200 meters from our hotel.
The catholic church of St. Martin – only 25 meters from us.
The town hall, distant only 50 meters.
Bojnice library garden – only 10 meters from us.
Or you can have your ceremony directly in our hotel.
"Choosing the place where the ceremony will be attended is the first step. We can help to put you in contact with the appropriate person in charge of each of the places if needed."
BOJNICKÝ VÍNNY DOM

AVAILABLE RESTAURANTS
Wedding Celebration
Our stylish restaurant set for a wedding is part of that dream you have. Marvelous tables prepared with fine tableware, fresh flowers and elegant decoration. The restaurant is versatile and can be decorated in any way. We recreate a beautiful atmosphere just for you, having in mind your ideas and preferences. The entire restaurant space will be exclusively reserved for you. And as a bonus…the restaurant has a direct access to our wine cellar! This can be convenient for private wine tasting or for taking original wedding photos. Hotel Bojnický vínny dom offers you several rooms and facilities for the celebration of your wedding:
BOJNICKÝ VÍNNY DOM
10 YEARS CREATING UNFORGETTABLE MEMORIES AND HAPPINESS
Now… Imagine your Wedding
CALL US OR FILL THE FORM BELOW
HOTEL PHONE NUMBER 00421 46 540 21 04
Next Story could be yours
A Wedding is a story with at least 4 important acts:
The Preparation
The Ceremony
The Banquet
The Party
And we have the honour to have participate in all the pictures of this story.
Next story could be yours…
BOJNICKÝ VÍNNY DOM
CATERING SERVICE AND MUCH MORE
We can help and provide anything you may need

YOU AND YOUR GUESTS DESERVE AN UNFORGETTABLE DAY, WE PUT OUR EXPERIENCE AT YOUR SERVICE
Contact us for your Wedding
Call 00421 465402104 or fill the form below