ACCOMMODATION IN THE CITY CENTER
Information for our guests
Hotel Bojnický vínny dom offers its guests accommodation and other associated services of the highest quality. Our rooms are beautifully furnished, clean, comfortable and have a beautiful view of Bojnice Castle , the main square and the surrounding countryside.
We offer private parking directly in the premises of the hotel, behind closed gate, so your car will be kept in privacy and safety.
The whole hotel building offers a pleasant atmosphere, beautiful interior design, antique furniture, and the best location near one of the most beautiful castles in the world. Its location gives you the opportunity to visit a number of quality restaurants around the hotel, directly on foot to visit the castle, ZOO, and other attractions near the hotel.
In summer you will enjoy air-conditioned rooms. Businessmen, corporate clients, and tourists will enjoy our free WiFi network.
Our hotel focuses on ecology. In the past, we were one of two hotels in Slovakia that held the EKO Label certificate.
We carefully separate the waste, save drinking water, use solar panels to heat water, and have implemented other procedures to reduce negative impacts on the environment.
"Check-in: 2:00 PM
Check-out: 10:00 AM
We offer discounts and other benefits when booking for larger events or group bookings."
BOJNICKÝ VÍNNY DOM
EXPERIENCE OUR PRIVATE WELLNESS IN BOJNICE
Wellness services
Hotel guests and those who visit Bojnice can use our jacuzzi and Finnish sauna for relaxation and rest while enjoying a relaxing cup of tea or a glass of wine. Enjoy your stay with us, treat yourself to, and have a moment for yourself or a little romance for as a couple. Relax and rest …. you deserve it.
Make sure you book ahead, these services are available on-demand only.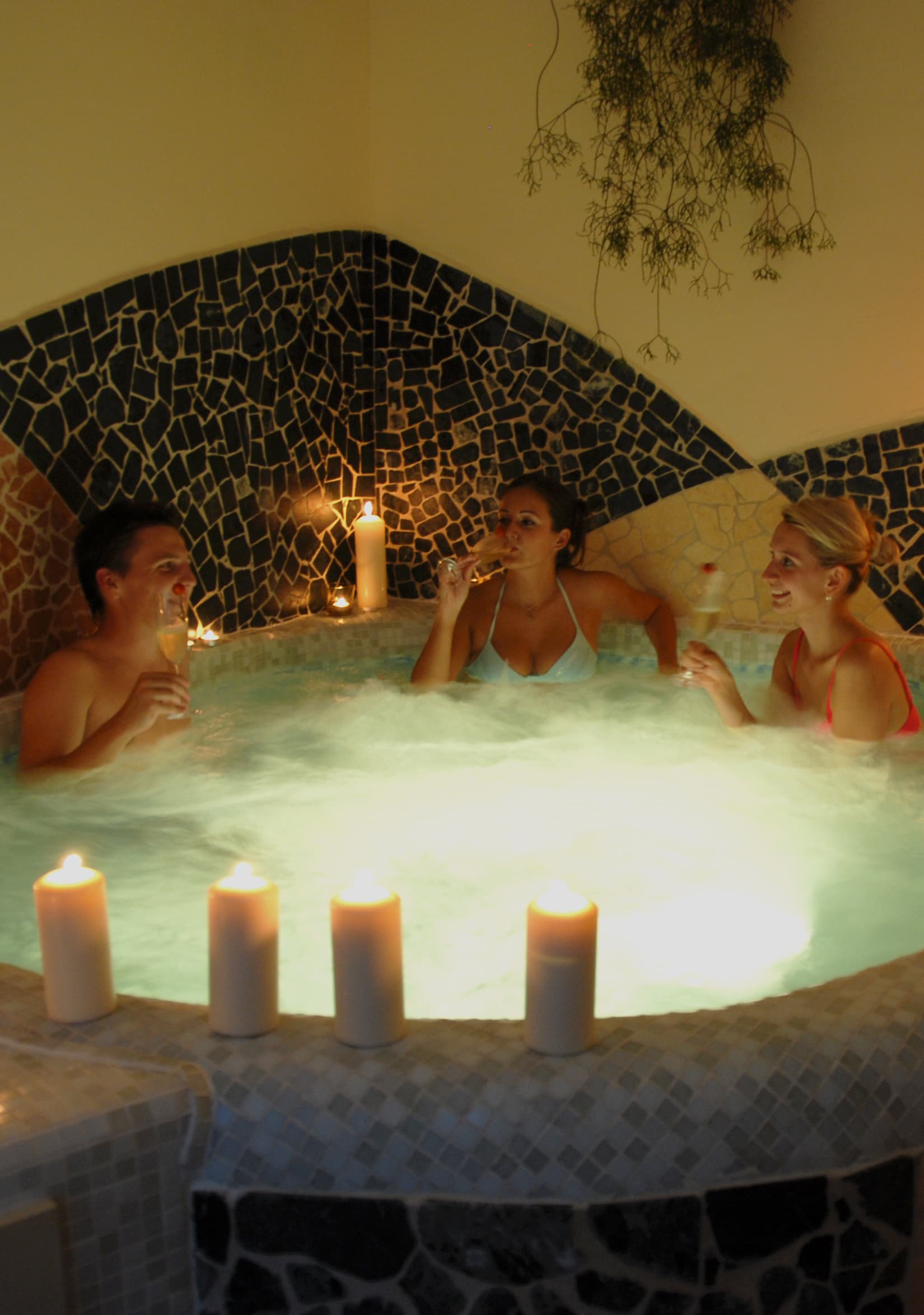 HOTEL BOJNICKÝ VÍNNY DOM
Our wellness offers
"Hotel wellness is available on-demand only. Make sure you book at least 24 in advance. We need time to prepare everything according to your preferences."
BOJNICKÝ VÍNNY DOM
 WELLNESS IN BOJNICE
Information and bookings
After a busy day or a long journey, you deserve to relax with a glass of wine in our jacuzzi and sauna. Our wellness is different, it is private, it is a space for perfect relaxation. Our wellness area is booked for one guest (couple, family) at the time.
Bear in mind that our wellness services must be booked 24 hours in advance, depending on availability in each given period.
Where can you book the private use of our services?
At the reception, by phone +421 918 466 332 or via e-mail: reception@bojvin.sk.
With each procedure in our wellness you will receive free water, a glass of wine, coffee, or a cup of tea.

BEST PLANCE – WELLNESS V BOJNICIACH
Wellness pricelist
NOT EXCLUSIVELY FOR HOTEL GUESTS
Jacuzzi
Private access – 60 min
up to 6 people
A glass of wine from our vineyards
water, cup of tea
suitable for kids
Sauna
Private access – 60 min
up to 2 people
A glass of wine from our vineyards
water, cup of tea
cold water tub
Jazcuzzi + Sauna
Jacuzzi – 120 min
sauna – 120 min
A glass of wine from our vineyards
water, cup of tea
cold water tub

Degustation room of our hotel offers our guests a place where they can choose from a selection of our wines and sit with a partner over a glass of good wine. Take advantage of this opportunity, because there will be no better time to talk than during the trip to Bojnice.